Rugby Gallery
Available as Prints and Gift Items
Choose from 2 pictures in our Rugby collection for your Wall Art or Photo Gift. All professionally made for Quick Shipping.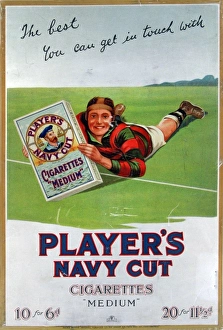 Featured Image
Navy Cut Medium Cigarettes, 1926
Player's Navy Cut Medium cigarettes rectangular, metal counter card depicting a rugby player scoring a touch-down with a pack of Navy Cut cigarettes instead of a ball. The text reads "The best // You can get in touch with // PLAYER'S // NAVY CUT // CIGARETTES // "MEDIUM" // 10 for 6d 20 for 11 1/2d." On the reverse is a support to allow the card to stand upright and a hanging loop. Printed on the top edge of the metal frame is the text "SHOULD THIS BECOME SOILED RUB LIGHTLY WITH A CLEAN MOIST LEATHER"
© Produced by the kind permission of Imperial Tobacco Limited, England