Caricature Gallery
Available as Prints and Gift Items
Choose from 2 pictures in our Caricature collection for your Wall Art or Photo Gift. All professionally made for Quick Shipping.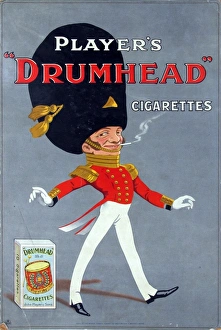 Featured Image
Drumhead Cigarettes, 1924=26
Player's Drumhead Cigarettes rectangular counter card. The background is grey and in the centre is a caricature of a guardsman wearing an oversized bearskin hat, red tunic with gold epaulettes and buttons and white trousers. He is smoking a cigarette. At the bottom left is a pack of Drumhead cigarettes. To the top is a hanging loop. The text reads "PLAYER'S // "DRUMHEAD" // CIGARETTES". On the reverse is a label which reads "MARDONS // WINDOW NOVELTIES // EMBOSSED SHOWCARDS / &C, &C // VARNISHERS // GELATINERS & FRAME MAKERS // BRISTOL & LONDON."
© Produced by the kind permission of Imperial Tobacco Limited, England